Most Influential Colleges in Sports Today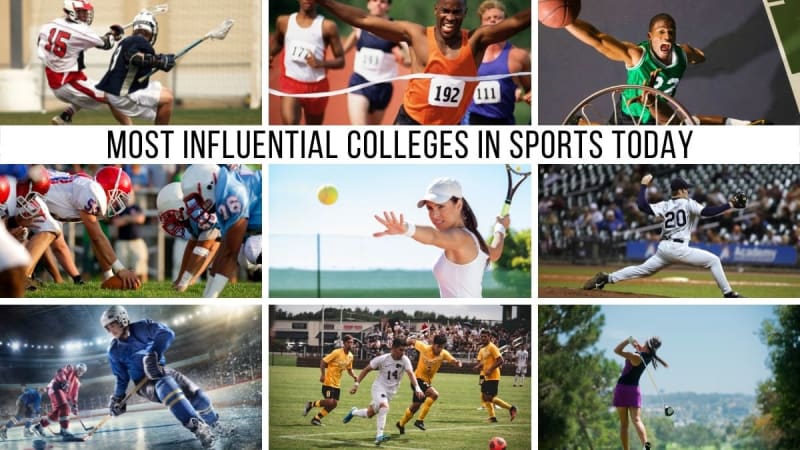 Based on the influence of the athletes associated with these colleges, these are the most influential colleges across all sports.
College sports are an important part of the higher education experience. You may be going to college to learn, earn your degree, and prepare for exciting career opportunities. But while you're there, you may also have the chance to witness or even participate in a variety of college athletics. With a total revenue of $1.16 billion at the end of fiscal year 2021 (8/31/21), the National Collegiate Athletic Association (NCAA) plays its own very influential role in shaping campus culture.
But how can you choose the best college for sports based on your personal interests and athletic abilities? One of the best ways to choose a college for sports is to identify the most influential college athletics program in each of the major NCAA sports. Based on our findings at Academic Influence, the most influential college sports programs are those that have produced the most noteworthy athletes and coaches in their respective sports.
We give you a completely unique way of shopping for colleges based on college athletics, whether you're looking for a school where you can perfect your golf game, a university with an Olympic-caliber track & field program, a Big Ten football school with a spectacular marching band, or a basketball-crazy college with an annual ticket to the Sweet 16. And if you are among the truly elite college athletic performers, one of these schools could even prepare you for an Olympic or professional athletic career.
Every sports college that we rank also includes a full academic profile so that you can base your decision on a combination of academic and athletic factors. To choose the best sports college for your athletic abilities and interests, read on...
If you are interested in an off-the-field sports career? Check out these degrees in sports and athletics
Featured Programs
Back to Top
The 25 Most Influential Colleges in Sports Today
Other Rankings

University of Kentucky's Most Influential Athletes

More Influential University of Kentucky Athletes

University of Kentucky's Online Degrees

Bachelor of Science or a Bachelor of Arts in Communication

Required Credits: 120
Completion Time: None Reported
Format: Online

BA in Health Science

Degree Concentrations

Medical Laboratory Science

Required Credits: 120
Completion Time: None Reported
Format: Online

BA in Liberal Studies

Required Credits: 120
Completion Time: None Reported
Format: Online

Bachelor of Science or a Bachelor of Arts in Information Communication Technology

Required Credits: 120
Completion Time: None Reported
Format: Online

BS in Nursing

Required Credits: 120
Completion Time: None Reported
Format: None Reported

BA in Social Work

Required Credits: 120
Completion Time: None Reported
Format: Online

Other Rankings

University of Arizona's Most Influential Athletes

More Influential University of Arizona Athletes

University of Arizona's Online Degrees

BA in Africana Studies

Required Credits: 120
Completion Time: None Reported
Format: Online

BAS in Administration of Justice

Required Credits: 120
Completion Time: None Reported
Format: Online

BS in Care, Health and Society

Required Credits: 120
Completion Time: None Reported
Format: Online

BS in Emergency Medical Services

Required Credits: 120
Completion Time: None Reported
Format: Online

Bachelor of Science in Business Administration in Accounting

Required Credits: 120
Completion Time: None Reported
Format: Online

BAS in Cyber Operations

Degree Concentrations

Engineering
Defense & Forensics
and Cyber Law & Policy

Required Credits: 120
Completion Time: None Reported
Format: Online

BA in Communication

Required Credits: 120
Completion Time: None Reported
Format: Online

BAS in Early Childhood

Required Credits: 120
Completion Time: None Reported
Format: Online

Bachelor of General Studies in Economy and Industry

Required Credits: 120
Completion Time: None Reported
Format: Online

BS in Environmental Science

Required Credits: 120
Completion Time: None Reported
Format: Online

Bachelor of General Studies, in Arts, Media and Entertainment

Required Credits: 120
Completion Time: None Reported
Format: Online

Bachelor of General Studies in Global and Intercultural Understanding

Required Credits: 120
Completion Time: None Reported
Format: Online

BA in Global Media

Required Credits: 120
Completion Time: None Reported
Format: Online

BA in Government and Public Service

Required Credits: 120
Completion Time: None Reported
Format: Online

BA in Human Rights Practice

Required Credits: None Reported
Completion Time: None Reported
Format: Online

BAS in Human Services

Required Credits: 120
Completion Time: None Reported
Format: Online

BS in Electrical and Computer Engineering

Required Credits: 128
Completion Time: None Reported
Format: Online

BS in Business Administration

Required Credits: 120
Completion Time: None Reported
Format: Online

BS in Geographic Information Systems Technology (GIST)

Required Credits: 120
Completion Time: None Reported
Format: Online

BS in Literacy, Learning and Leadership

Required Credits: 120
Completion Time: None Reported
Format: Online

BA in Information Science and ESociety

Required Credits: 120
Completion Time: None Reported
Format: Online

BAS in Organizational Leadership

Required Credits: 120
Completion Time: None Reported
Format: Online

BA in Psychology

Required Credits: 120
Completion Time: None Reported
Format: Online

BA in Law

Required Credits: 120
Completion Time: None Reported
Format: Online

BA in Political Science

Required Credits: 120
Completion Time: None Reported
Format: Online

BAS in Regional Commerce

Required Credits: 120
Completion Time: None Reported
Format: Online

BAS in Intelligence and Information Operations

Required Credits: 120
Completion Time: None Reported
Format: Online

BA in History

Required Credits: 120
Completion Time: None Reported
Format: Online

BA in Philosophy: Ethics

Required Credits: 120
Completion Time: None Reported
Format: Online

Bachelor of Science in Business Administration in Biology

Required Credits: 120
Completion Time: None Reported
Format: Online

BS in Nutritional Sciences

Required Credits: 120
Completion Time: None Reported
Format: Online

BA in Spanish

Required Credits: 120
Completion Time: None Reported
Format: Online

Bachelor of General Studies in Sports and Society

Required Credits: 120
Completion Time: None Reported
Format: Online

BS in Public Health

Required Credits: 120
Completion Time: None Reported
Format: Online

BS in Sustainable Built Environments

Required Credits: 120
Completion Time: None Reported
Format: Online

Bachelor of General Studies in Social Behavior and Human Understanding

Required Credits: 120
Completion Time: None Reported
Format: Online

Other Rankings

Auburn University's Most Influential Athletes

More Influential Auburn University Athletes

Auburn University's Online Degrees

BSBA in Accountancy

Required Credits: None Reported
Completion Time: None Reported
Format: Online

BSBA in None

Required Credits: None Reported
Completion Time: None Reported
Format: Online

Other Rankings

Arizona State University's Most Influential Athletes

More Influential ASU Athletes

Arizona State University's Online Degrees

BA in Applied Science

Degree Concentrations

Project Management
Health Sciences

Required Credits: 111-120
Completion Time: None Reported
Format: Online

BA in Business

Degree Concentrations

Communication
Sustainability

Required Credits: 114-120
Completion Time: None Reported
Format: Online

BA in Educational Studies

Degree Concentrations

Business
Community Health
Family and Human Development
Global Studies
Health Innovations
Personal Health
Political Science
Organizational Leadership

Required Credits: 114-120
Completion Time: None Reported
Format: Online

Other Rankings

Syracuse University's Most Influential Athletes

More Influential Syracuse Athletes

Syracuse University's Online Degrees

BPS in Creative Leadership

Required Credits: 120
Completion Time: None Reported
Format: Online

BPS in Knowledge Management

Required Credits: 120
Completion Time: None Reported
Format: Online

BPS in Cybersecurity Administration

Required Credits: 120
Completion Time: None Reported
Format: Online

Other Rankings

University of Alabama's Most Influential Athletes

More Influential University of Alabama Athletes

University of Alabama's Online Degrees

BS in Food and Nutrition

Required Credits: 120
Completion Time: None Reported
Format: Online

BS in Early Childhood Education

Required Credits: 120
Completion Time: None Reported
Format: Online

BS in Hospitality Management

Required Credits: 120
Completion Time: None Reported
Format: Online

BS in Human Development and Family Studies

Required Credits: 120
Completion Time: None Reported
Format: Online

BS in Human Environmental Sciences

Required Credits: 120
Completion Time: None Reported
Format: Online

BS in Human Environmental Sciences, Consumer Sciences

Degree Concentrations

Consumer Affairs
Family Financial Planning and Counseling

Required Credits: 120
Completion Time: None Reported
Format: Online

BS/BA in Interdisciplinary Studies

Required Credits: 120
Completion Time: None Reported
Format: Online

BA in Criminology and Criminal Justice

Required Credits: 120
Completion Time: None Reported
Format: Online

BS in Nursing

Required Credits: 25/ 125
Completion Time: None Reported
Format: Online

BS in Mechanical Engineering

Required Credits: 128
Completion Time: None Reported
Format: None Reported

BS in Commerce and Business Administration

Degree Concentrations

General Business
Management
Accounting
Marketing

Required Credits: 120
Completion Time: None Reported
Format: Online

BA in Social Work

Required Credits: 120
Completion Time: None Reported
Format: None Reported
More Related Articles about College Sports