Colleges and Universities in Pennsylvania
Prospective students hoping to earn an associate, bachelor's, master's, or doctoral degree have over 100 higher learning institutions to choose from. The largest public university is Pennsylvania State University, or Penn State, with a tuition of $18,000, and a student population of over 95,000 across its campuses. As a private institution, the University of Pennsylvania, or simply Penn, is known for its medical, nursing, social work, and business fields. Tuition is $56,000, and the school boasts a 95% graduation rate.
Find college admissions consultants in your state.
Students can also attend one of the more than 60 religiously affiliated schools, such as Villanova University or Lafayette College, each with a tuition of about $53,000. Some of the most affordable colleges in the state include the Curtis Institute of Music and the Talmudical Yeshiva of Philadelphia, with tuitions set at $3,000 and $9,000, respectively. Though the average tuition for college in Pennsylvania comes in above the national average, those who practice medicine in underserved areas may qualify for up to $100,000 in loan forgiveness through the Pennsylvania Primary Care Loan Repayment Program.
As the nation's second state, Pennsylvania's history runs deep. It's here where Betsy Ross made the first American flag and where the Declaration of Independence was signed. The Keystone State is also home to some culinary delights, including whoopie pies, soft pretzels, and the famous Philly cheesesteak. Students looking to earn their degree in Pennsylvania will undoubtedly enjoy what the state has to offer.
Check out the state's top programs and learn more about earning your degree in Pennsylvania.
What are Pennsylvania's Colleges & Universities?
The following list of the best Christian schools consists entirely of colleges and universities that offer four-year undergraduate degrees. We've identified the best Christian colleges in Pennsylvania. In order to be included in this ranking list of best Christian colleges and universities, a school must self-identify as Christian, be fully accredited, and offer a broad range of bachelor degree programs.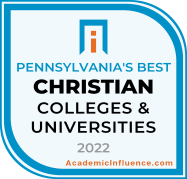 Back to Top
Exploring Pennsylvania's Christian Education Institutions
Religious colleges and universities are located all over the US. Although many colleges are only religious in their founding, others merge their religious beliefs into everyday life in schools. If you have a solid faith and you want to surround yourself with students who share the same faith, a Christian college might be a good option.
Why Enroll in a Christian College
College is a whole new place that allows you to explore and recognize how and where you want to live your life. In a Christian college, you will find out more about your God-given purpose and passions. Here are other compelling reasons why enrolling in a Christian college is a wise choice.
Great Education: While some Christian colleges may not be household names, these schools can offer a great education. They have outstanding academic programs for undergraduate students and graduate students alike.
Christian colleges must comply with the same requirements as other big colleges and universities to gain accreditation. Plus, most faculty members of Christian colleges hold terminal or doctorate degrees in their respective fields. Others have published works or serve as experts in their disciplines.
Faith-Based Development: Most Christian colleges and universities offer, and some even require, courses on church history, the Bible, Greek language, faith, and more.
Most Christian colleges also have church services or a chapel on campus for their students. It's also not uncommon to find things like prayer in the classroom, missionary opportunities, or Bible studies taking place in residence halls. Almost all facets of the college experience are intertwined with faith in a Christian college.
Smaller Size: Since many Christian schools are relatively smaller in size, this gives you a chance to get to know the school's faculty members and staff. Personnel in Christian colleges always go out of their way to guarantee that college freshmen are not lost in the crowd. They provide programs designed to help students easily transition from home life to college life.
Active Student Body: Like any traditional university, Christian colleges also have so many other ways to get students involved outside of class. Student organizations, student newspapers, college athletics, and theatrical productions are just some of the many extra-curricular activities you can find in a Christian school. While the social environment will still be similar to that of most universities, Christian schools add a commitment to fellowship and faith.
Education and Faith Integration: Unlike in most universities where faith is only covered in courses on religion, Christian colleges discuss this in most of their subjects.
These discussions often revolve around how a specific subject can integrate with the student's worldview as it relates to their personal beliefs. Students often have the chance to talk in their classes about controversial issues, and get to hear other's beliefs.
Strong Campus Community: Because Christian colleges encourage student connections via faith services, activities, student organizations, and other projects, coupled with the fact that students share the same values and beliefs, everybody can easily find friendship and support on campus.