Liberal Arts in the Lone Star State
Texas is mainly known for its football fields, religious colleges, such as TX Texas Christian University and Southern Methodist University, and large schools and institutions, such as Texas Tech University, Rice University, and Baylor University. Some people might now know that Texas has some of the best liberal arts colleges in the nation.
Due to their unmatched advantages, a liberal arts college is becoming increasingly popular with students seeking a bachelor's degree.
About The Liberal Arts Education
You will study various topics while taking different perspectives on the world and its people. You will gain knowledge of the principles and ideals that have influenced civilizations for thousands of years and served as a guide for people. You'll query yourself on issues like:
What does being a human mean?
What have people done, considered, and felt?
What are the meanings of truth and beauty in life?
How have our physical and natural environments shaped us, and how have we shaped them?
What knowledge, methodologies, or approaches can be used to study the Earth and its inhabitants?
A liberal arts education is broad and diverse as opposed to specific and focused. You can gain a comprehensive and practical education by selecting courses from several disciplines.
Liberal Arts Majors and Degrees
Humanities
The topics of Romantic-era poetry, ancient and contemporary languages, and empire rise and fall are all topics humanities students cover. The humanities are fundamental to a liberal arts education and explore literature, history, culture, and moral principles.
Humanities majors develop their writing, critical thinking, and research abilities while studying these subjects.
The humanities often encompass the following majors:
Communication
Philosophy
History
Language
English
A few of the best liberal arts colleges for a humanities degree are Abilene Christian University, Trinity University, and Austin College.
Social sciences
Social science is the study of interpersonal relationships. Social scientists investigate how societies function, looking at what makes people happy, spurs economic growth, and creates unemployment. Their findings are used to guide public policies, educational initiatives, urban planning, marketing plans, and numerous other projects.
The list of typical social science degrees that follows demonstrates the range of disciplines that make up this area of study:
Anthropology
Criminal justice
Economics
Political science
Psychology
Sociology
A few of the best liberal arts colleges for a social science degree are Southern Methodist University, Texas College, and Schreiner University.
Fine Arts
A major in the arts integrates several academic disciplines, including painting, art history, sculpture, and photography. The business of the visual arts and art therapy are two more areas of study. These degrees, as examples, include:
Art history
Theater arts
Graphic design
Music
Film
Interactive media
A few of the best liberal arts colleges for an arts degree are Wayland Baptist University, Sul Ross State University, and Houston Baptist University.
Natural Sciences
Programs in the natural sciences are frequently interdisciplinary and include multiple sciences at once. Typically, they consist of the following five majors or fields:
Astronomy
Biology
Chemistry
Geology
Physics
A few of the best liberal arts colleges for a natural science degree are Southwestern University, Southern Methodist University, and Trinity University.
Most Useful Liberal Arts Skills
A liberal arts degree gives you a well-rounded education compared to higher education programs focused on a certain profession. As a result, finding a job with precise criteria might be difficult. Fortunately, a liberal arts education teaches you skills you can use to pin down job opportunities. Here are the most important skills you gain from liberal arts:
Foreign languages and cross-cultural knowledge
Research and information retrieval
Numeracy
Critical thinking
Creative thinking
Colleges and Universities in Texas
Texas offers more than 30 colleges and universities that serve communities of 10,000 students or more. The largest school in the bunch (and in the nation), Texas A&M University in College Station serves more than 65,000 students. The University of Texas at Austin is the next largest, serving about 45,000 students - but it too has a big claim to fame, as the wealthiest public university in the United States. Texas's private colleges and universities, including Baylor University and Southern Methodist University, are also impressive in size and scope. The majority of these schools have religious affiliations and offer degrees in a variety fields, such as nursing, religious studies, criminal justice, business, and education.
Find college admissions consultants in your state.
For students who prefer a more intimate educational environment, Texas offers a long list of smaller public and private colleges and universities, such as Abilene Christian University and University of Texas of the Permian Basin. Additionally, Texas has generous loan forgiveness programs for qualifying nurses, physicians, teachers, legal aid attorneys, and lawyers who work in the Texas Attorney General's office.
Texas is known for doing things big. Big cities, big open spaces and, of course, big fun. Whether you're hitting up the live music scene in Austin, catching a Cowboys game in Dallas, or strolling down the River Walk in San Antonio, you're sure to have a good time. And, with more than 150 higher education institutes, it's safe to say The Lone Star State is big on education too.
If you're looking to earn your degree in the state of Texas, you'll have plenty of higher learning institutes to choose from.
What are Texas's Colleges & Universities?
Related: Differences between research universities and teaching colleges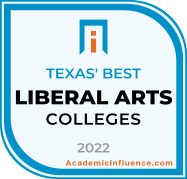 A liberal arts college is a school that puts a premium on undergraduate studies and offers a broad range of subjects for students to study. A college of liberal arts typically provides smaller class sizes, more direct engagement with professors, and, most importantly, the opportunity to sample a wide range of subject areas on the way to a bachelor's degree. We've identified 46 liberal arts colleges in Texas. To be ranked among the 30 best liberal arts colleges in Texas, schools must fully accredited institutions.