Best Liberal Arts Colleges for Religious Studies Degrees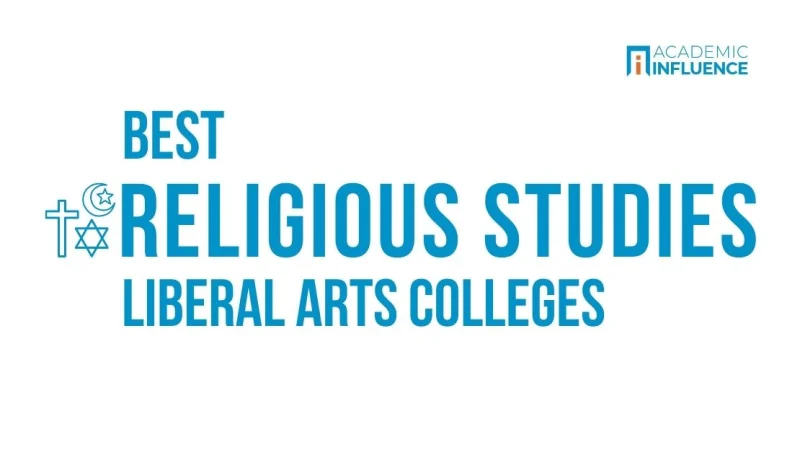 The best religious studies liberal arts colleges are those with rich histories of influence, proven through the work produced by the program's faculty and alumni. Beyond demonstrating scholarly impact in the field, the best religious studies degree programs maximize your opportunities to interact with outstanding religious studies faculty.
Top 10 Liberal Arts Colleges Religious Studies Programs
Featured Programs
Frequently Asked Questions About Religious Studies Bachelor's Degrees
Related: How to Major in Religious Studies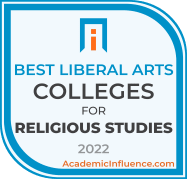 If you think a research university may be a better fit for you, see our ranking of the best research universities for a bachelor's in religious studies.
Ranking: Best Liberal Arts Colleges for Religious Studies Bachelor's Degree Programs
Other Rankings

What is Claremont McKenna College known for?

Claremont McKenna College's faculty and alumni have been influential in:

Most Influential Alumni

CMC Religious Studies Major Concentrations:

Jewish Civilization
Christian Origins
Hinduism
South Asian Religions and Culture
Philosophy of Religion
Religion and Gender Studies
American Religions, Politics, & Culture
U.S. Latino & Latin American Religions and Politics

Source

Other Rankings

What is Wheaton College known for?

Wheaton College 's faculty and alumni have been influential in:

Most Influential Alumni

Wheaton College Religious Studies Majors:

Biblical and Theological Studies
Biblical Archaeology

Source

Other Rankings

What is Carleton College known for?

Carleton College's faculty and alumni have been influential in:

Most Influential Alumni

Carleton College Religious Studies Interdisciplinary Major Concentrations:

Africana Studies
American Studies
Art & Art History
Asian Studies
Cinema and Media Studies
Classics
Cross Cultural Studies
Environmental Studies
European Studies
History
Judaic Studies
Latin American Studies
Medieval and Renaissance Studies
Middle East Studies
Music
Sociology and Anthropology
Women's and Gender Studies

Source

Other Rankings

What is Pitzer College known for?

Pitzer College's faculty and alumni have been influential in:

Most Influential Alumni

Pitzer College Religious Studies Major:

Source

Other Rankings

What is Houston Christian University known for?

Houston Christian University's faculty and alumni have been influential in:

Most Influential Alumni

HBU Religious Studies Majors:

BA in Christianity
BA in Biblical Studies
BA in Practical Theology
BA in Theological Studies
BA in BA in Biblical Languages

Source

Houston Christian University's Online Degrees

BBA in Managerial Studies

Required Credits: 125
Completion Time: None Reported
Format: Online

BA in Managerial Studies

Required Credits: 125
Completion Time: None Reported
Format: Online

BA in Criminal Justice

Required Credits: 125
Completion Time: None Reported
Format: Online

BA in Theological Studies

Required Credits: 125
Completion Time: None Reported
Format: Online

BA in Biblical Studies

Required Credits: 125
Completion Time: None Reported
Format: Online

BA in Interdisciplinary Studies

Required Credits: 125
Completion Time: None Reported
Format: Online

BSN in Nursing: RN to BSN

Required Credits: 27
Completion Time: None Reported
Format: Online

What is Southwestern Assemblies of God University known for?

Southwestern Assemblies of God University's faculty and alumni have been influential in:

Most Influential Alumni

SAGU Religious Studies Major:

BA in Religion and Philosophy

Source

Southwestern Assemblies of God University's Online Degrees

BBA in Business Administration

Required Credits: 120
Completion Time: None Reported
Format: Online

BBA in Business Administration/Management

Required Credits: 120
Completion Time: None Reported
Format: Online

BBA in Accounting

Required Credits: 120
Completion Time: None Reported
Format: Online

BBA in Marketing

Required Credits: 120
Completion Time: None Reported
Format: Online

BS in Criminal Justice & Law Enforcement

Required Credits: 120
Completion Time: None Reported
Format: Online

BS in Criminal Justice

Required Credits: 126
Completion Time: None Reported
Format: Online

BA in Education Pre-Professional

Required Credits: 120
Completion Time: None Reported
Format: Online

BA in Elementary Education

Required Credits: 127
Completion Time: None Reported
Format: Online

BA in Ancient Studies

Required Credits: 120
Completion Time: None Reported
Format: Online

BSW in Social Work

Required Credits: 120
Completion Time: None Reported
Format: Online

BA in Church Leadership

Required Credits: 120
Completion Time: None Reported
Format: Online

BA in Bible and Theology

Required Credits: 120
Completion Time: None Reported
Format: Online

BA in Biblical Studies

Required Credits: 120
Completion Time: None Reported
Format: Online

BA in General Ministries

Required Credits: 120
Completion Time: None Reported
Format: Online

BA in Theological Studies

Required Credits: 120
Completion Time: None Reported
Format: Online

BA in History

Required Credits: 120
Completion Time: None Reported
Format: Online

BA in English Language Arts and Reading Middle and Secondary

Required Credits: 124
Completion Time: None Reported
Format: Online

BA in Social Studies/History Education Middle and Secondary

Required Credits: 127
Completion Time: None Reported
Format: Online

BA in English

Required Credits: 120
Completion Time: None Reported
Format: Online

BS in Child and Family Studies

Required Credits: 120
Completion Time: None Reported
Format: Online

BS in Interdisciplinary Studies

Required Credits: 120
Completion Time: None Reported
Format: Online

BS in Human Services

Degree Concentrations

General Track
Criminal Justice
Psychology
Social Work

Required Credits: 120
Completion Time: None Reported
Format: Online

BA in Intercultural Studies

Required Credits: 126
Completion Time: None Reported
Format: Online

BS in Occupational Leadership

Required Credits: 120
Completion Time: None Reported
Format: Online

BA in Religion and Philosophy

Required Credits: 120
Completion Time: None Reported
Format: Online

BA in Counseling

Required Credits: 126
Completion Time: None Reported
Format: Online

BS in Human Services Counseling

Required Credits: 120
Completion Time: None Reported
Format: Online

Other Rankings

What is College of the Holy Cross known for?

College of the Holy Cross's faculty and alumni have been influential in:

Most Influential Alumni

CHC Religious Studies Major Concentrations:

World Religions
Theology
Sacred Texts
Religious Ethics

Source

Other Rankings

What is Macalester College known for?

Macalester College's faculty and alumni have been influential in:

Most Influential Alumni

Macalester College Religious Studies Major:

Source

Other Rankings

What is Bucknell University known for?

Bucknell University's faculty and alumni have been influential in:

Most Influential Alumni

Bucknell University Religious Studies Major:

Source

Other Rankings

What is Bates College known for?

Bates College's faculty and alumni have been influential in:

Most Influential Alumni

Bates College Religious Studies Major:

Source
Go to all Liberal Arts Colleges for religious studies programs
The Best Religious Studies Schools in Your State
Back to Top
Learn More About Religious Studies
If you want to know more about religious studies, then check out our related content: