Texas' Pride: The Country's Top Grad Schools
Texas is the second largest state, which means bigger or greater options for advanced education. Texas is home to the first Space Center, Smithsonian-worthy institutions, and more airports than any other state in America. Prospective students for graduate degrees can find a rare combination of protected history and urban innovation in the Lone Star state.
Cost of Higher Education in Texas
A public university in Texas charges in-state students an average of $8,000 for tuition and other fees. Nearly twice as much is charged to out-of-state students as it is to in-state students. Remember that this does not include other college costs, such as housing, food, and transportation.
At a Texas public institution, the average cost for in-state students, including housing and food, is $18,000. If you decide to study at a private institution, you should expect to spend at least $48,000 yearly.
Since location affects costs like rent, food, and gas, it also helps to calculate the overall cost of college. Certain locations, like Dallas, have a higher cost of living than others. Cities like Amarillo and Brownsville, as well as more remote areas, are among Texas's least expensive neighborhoods.
The cheapest graduate schools in Texas include:
If you're an out-of-state student, expect to pay twice the in-state tuition.
The most expensive graduate schools in Texas include:
How to Lower the Cost of Graduate Programs in Texas
Become a Resident of the State
If you're an out-of-state student, working on your residency status is important. Texas requires you to spend a full year in the state before you are regarded as a resident.
Unfortunately, being in the state for one year as a college student in a dorm room on campus does not count. What you can do is rent an apartment instead of living on campus. It's also important to have the right paper trails, including a driver's license in the state, registering to vote, and paying taxes.
Talk to the Financial Aid Office
Contact the financial assistance office if you have your eye on a specific college but are concerned about the expense of attending as an out-of-state student. Getting financial aid, scholarships, and grants can help cut the cost of attending college.
Attend a Public College or University
Enrolling in a public college or university is the way to go if you really want to save money. The Texas government funds public colleges, which reduces a student's tuition and fees significantly. Public universities have fewer requirements and more lenient admissions than private institutions.
Transfer Credits
Students can lower their overall college expenses by transferring credits from previous education. To be able to transfer credits, make sure that your last degree is from an accredited institution.
Colleges and Universities in Texas
Texas offers more than 30 colleges and universities that serve communities of 10,000 students or more. The largest school in the bunch (and in the nation), Texas A&M University in College Station serves more than 65,000 students. The University of Texas at Austin is the next largest, serving about 45,000 students - but it too has a big claim to fame, as the wealthiest public university in the United States. Texas's private colleges and universities, including Baylor University and Southern Methodist University, are also impressive in size and scope. The majority of these schools have religious affiliations and offer degrees in a variety fields, such as nursing, religious studies, criminal justice, business, and education.
Find college admissions consultants in your state.
For students who prefer a more intimate educational environment, Texas offers a long list of smaller public and private colleges and universities, such as Abilene Christian University and University of Texas of the Permian Basin. Additionally, Texas has generous loan forgiveness programs for qualifying nurses, physicians, teachers, legal aid attorneys, and lawyers who work in the Texas Attorney General's office.
Texas is known for doing things big. Big cities, big open spaces and, of course, big fun. Whether you're hitting up the live music scene in Austin, catching a Cowboys game in Dallas, or strolling down the River Walk in San Antonio, you're sure to have a good time. And, with more than 150 higher education institutes, it's safe to say The Lone Star State is big on education too.
If you're looking to earn your degree in the state of Texas, you'll have plenty of higher learning institutes to choose from.
What are Texas's Colleges & Universities?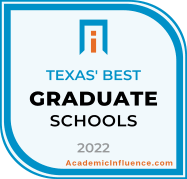 There are 45 doctorate-granting graduate schools in Texas. Our ranking of the best graduate schools in the Texas is composed of both private and public schools. To be included, schools must be fully accredited non-profit institutions, and must offer doctoral degrees and a broad array of graduate degrees.