The Most Influential Colleges in Soccer Today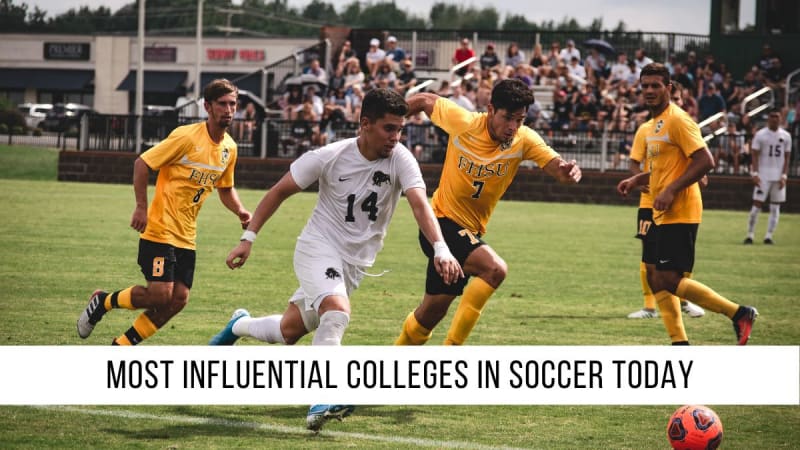 Find the colleges and universities that have the biggest impact in soccer based on the influence of their alumni in soccer. See which schools have proven histories of attracting and cultivating some of the most influential athletes today.
The best colleges and universities for soccer are represented by a diverse list of both players and coaches in men's and women's soccer. In fact, a number of college athletics programs are included on our list for producing top soccer club managers, as opposed to players. For instance, at the top of the list is the University of North Carolina at Chapel Hill, owing largely to the influence of UNC Women's Soccer coach Anson Dorrance. With 21 championships, Dorannce is the most successful NCAA women's soccer coach of all time. UNC's program can also boast alumni like Olympic Gold Medalist Mia Hamm. Another fascinating and noteworthy inclusion on this list, the Nassau Community College in Garden City New York, is the rare public two-year school to appear on a list of top athletics programs. Most college sports rankings are dominated by major athletics programs at four-year colleges. Nassau actually ranks #5 on our list thanks to the distinguished coaching career of alumnus Bruce Arena.
Most Influential Colleges in Soccer
Featured Programs
The Most Influential Colleges in Soccer Today
Other Rankings

NC State University's Most Influential Soccer Players

More Influential Soccer Players

North Carolina State University's Online Degrees

BA in Leadership In The Public Sector

Required Credits: 12
Completion Time: None Reported
Format: Online

Other Rankings

Florida International University's Most Influential Soccer Players

More Influential Soccer Players

Kedie Johnson

Florida International University's Online Degrees

BA in Theatre

Required Credits: 120
Completion Time: None Reported
Format: Online

BFA in Theatre

Required Credits: 128
Completion Time: None Reported
Format: Online

BBA in Finance

Required Credits: 120
Completion Time: None Reported
Format: Online

BS in Hospitality Management

Degree Concentrations

Beverage Management
Culinary Management
Event Management
Hotel/Lodging Management
Restaurant/Food Service Management
Travel And Tourism Management

Required Credits: 120
Completion Time: None Reported
Format: Online

BBA in Human Resource Management

Required Credits: 120
Completion Time: None Reported
Format: Online

BBA in International Business

Required Credits: 120
Completion Time: None Reported
Format: Online

BBA in Logistics And Supply Chain Management

Required Credits: 120
Completion Time: None Reported
Format: Online

BBA in Management

Required Credits: 120
Completion Time: None Reported
Format: Online

BBA in Marketing

Required Credits: 120
Completion Time: None Reported
Format: Online

BS in Public Relations Advertising And Applied Communications

Required Credits: 120
Completion Time: None Reported
Format: Online

BBA in Real Estate

Required Credits: 120
Completion Time: None Reported
Format: Online

BS in Recreation And Sport Management

Degree Concentrations

Parks Management
Recreation And Sport Management

Required Credits: 120
Completion Time: None Reported
Format: Online

BA in Computer Science

Required Credits: 120
Completion Time: None Reported
Format: Online

BA in Information Technology

Required Credits: 39
Completion Time: None Reported
Format: Online

BS in Information Technology

Required Credits: 120
Completion Time: None Reported
Format: Online

BS in Internet Of Things

Required Credits: 120
Completion Time: None Reported
Format: Online

BS in Crime Science

Required Credits: 120
Completion Time: None Reported
Format: Online

BS in Criminal Justice

Required Credits: 120
Completion Time: None Reported
Format: Online

BS in Early Childhood Education Bs

Required Credits: 120
Completion Time: None Reported
Format: Online

BA in Anthropology

Required Credits: 120
Completion Time: None Reported
Format: Online

BA in Asian Studies

Required Credits: 120
Completion Time: None Reported
Format: Online

BA in History

Required Credits: 120
Completion Time: None Reported
Format: Online

BA in Interdisciplinary Studies

Required Credits: 120
Completion Time: None Reported
Format: Online

BA in International Relations

Required Credits: 120
Completion Time: None Reported
Format: Online

BA in Latin American and Caribbean Studies Ba

Required Credits: 120
Completion Time: None Reported
Format: Online

BA in Organizational Communication Studies

Required Credits: 120
Completion Time: None Reported
Format: Online

BA in Political Science

Required Credits: 120
Completion Time: None Reported
Format: Online

BPA in Public Administration

Required Credits: 120
Completion Time: None Reported
Format: Online

BA in Religious Studies

Required Credits: 120
Completion Time: None Reported
Format: Online

BS in Social Welfare

Required Credits: 120
Completion Time: None Reported
Format: Online

BA in Sociology

Required Credits: 120
Completion Time: None Reported
Format: Online

BA in Women's And Gender Studies

Required Credits: 120
Completion Time: None Reported
Format: Online

BHSA in Health Services Administration

Required Credits: 120
Completion Time: None Reported
Format: Online

BSN in Nursing

Required Credits: 120
Completion Time: None Reported
Format: Online

BA in Psychology

Required Credits: 120
Completion Time: None Reported
Format: Online

BS in Computer Engineering

Required Credits: 128
Completion Time: None Reported
Format: Online

BS in Electrical Engineering

Required Credits: 128
Completion Time: None Reported
Format: Online

BS in Statistics

Required Credits: 120
Completion Time: None Reported
Format: Online

Other Rankings

Saint Louis University's Most Influential Soccer Players

More Influential Soccer Players

Saint Louis University's Online Degrees

BS in Computer Information Systems

Degree Concentrations

Cybersecurity
Data Analytics

Required Credits: 120
Completion Time: None Reported
Format: Online

BA in Leadership and Organizational Behavior

Required Credits: 120
Completion Time: None Reported
Format: Online

BA in General Studies

Required Credits: 120
Completion Time: None Reported
Format: Online

BS in Emergency Management

Required Credits: 120
Completion Time: None Reported
Format: Online

BS in Nursing

Required Credits: 120
Completion Time: None Reported
Format: Online

BS in Organizational Leadership and Technology

Required Credits: 120
Completion Time: None Reported
Format: Online

BS in Project Management

Required Credits: 120
Completion Time: None Reported
Format: Online

BS in Social Work

Required Credits: 120
Completion Time: None Reported
Format: Online

Other Rankings

University of Akron's Most Influential Soccer Players

More Influential Soccer Players

University of Akron's Online Degrees

BS in Organizational Supervision

Required Credits: 62
Completion Time: None Reported
Format: Online

BS in Criminology And Criminal Justice

Required Credits: 120
Completion Time: None Reported
Format: Online

BS in Emergency Management And Homeland Security

Required Credits: 120
Completion Time: None Reported
Format: Online

BA in Public Communication

Required Credits: 120
Completion Time: None Reported
Format: Online

BA in Public Relations

Required Credits: 120
Completion Time: None Reported
Format: Online

BA in Sociology

Required Credits: 120
Completion Time: None Reported
Format: Online

BS in Nursing: RN to BSN

Required Credits: 31
Completion Time: None Reported
Format: Online

San Diego State University's Most Influential Soccer Players

More Influential Soccer Players

San Diego State University's Online Degrees

BS in Business Administration

Required Credits: 49-55
Completion Time: None Reported
Format: Online

BS in Criminal Justice

Required Credits: 51-60
Completion Time: None Reported
Format: Online

Other Rankings

Creighton University's Most Influential Soccer Players

More Influential Soccer Players

Creighton University's Online Degrees

BS in Leadership

Required Credits: 128
Completion Time: None Reported
Format: Online

BSEMS in Emergency Medical Services

Required Credits: 128
Completion Time: None Reported
Format: Online

BA in Healthy Lifestyle Management

Required Credits: 128
Completion Time: None Reported
Format: Online