Best Colleges and Universities for Psychology Degrees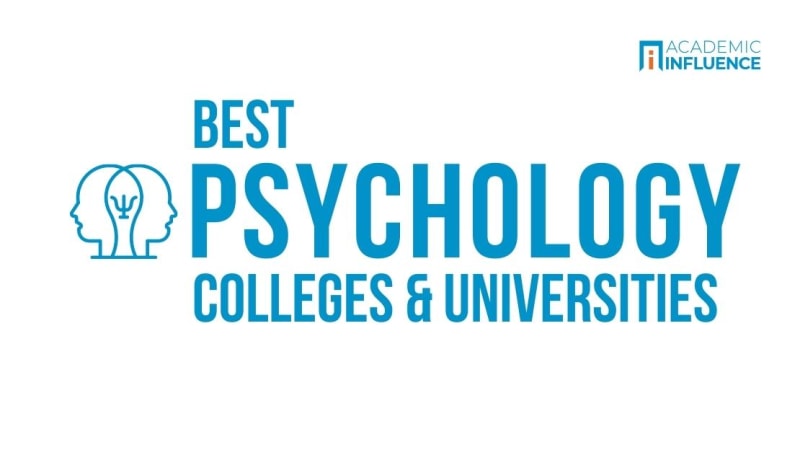 The best psychology degree programs are those with rich histories of influence, proven through the work produced by the program's faculty and alumni. Beyond demonstrating scholarly impact in the field, the best psychology degree programs maximize your opportunities to interact with outstanding psychology faculty.
Featured Programs
Psychology Degrees are Popular and Versatile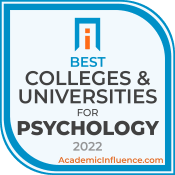 Psychology bachelor's degrees are the 4th most popular undergraduate degree across all student demographics. Only liberal studies, business, and nursing rank ahead of it. Psychology degrees are three times more common among women than men, and rank among the top 5 bachelor's degrees for both Black people and Hispanics (according to degree-earner numbers reported by the National Center for Educational Statistics).
While psychology is obviously a sensible major if you're planning on becoming a clinical psychologist, majoring in psychology is also a great starting point for a career as a school counselor, special educator, addiction specialist, criminologist, forensics expert and countless other professions. Some psychology majors will complete a double major, or a minor, in a complimentary area such as education or law enforcement. Beyond that, psychology degrees can be useful in many areas of business like marketing, human resources, conflict resolution, and business management. Our top reason to choose a psycholgoy degree is that you learn to think about how people think, and thus the versatility of a psychology degree is practically limitless.
As a psychology major, you'll study human development, cognition, and behavior. You'll learn skills like counseling, behavioral therapy, and clinical treatment for mental health disorders. Students who plan to ultimately become practicing clinical psychologists will be required to earn their doctoral degree in psychology from a program that is accredited by The APA Commission on Accreditation, and subsequently qualify for and pass the Examination for Professional Practice in Psychology (EPPP). However, majoring in psychology as an undergraduate can provide a starting point for a wide range of careers in school counseling, substance abuse treatment, special education, and much more. The best schools for psychology are those which are regionally accredited, which offer a full array of psychology concentrations, and which give you the chance to work with the best and most influential professors and classmates.
Frequently Asked Questions About Psychology Bachelor's Degrees
Frequently Asked Questions About Research Universities, Liberal Arts Colleges, Online Colleges
Research universities are schools whose faculty are active in research and publishing. Such institutions offer a wide array of doctoral programs, especially in the sciences. They tend to be big, often with tens of thousands of students.
Is a big high-powered research environment the place for you? In deciding on where to do your psychology major as an undergraduate, ask yourself what sort of environment will best help you to be happy and excel.
Are you good with being a face in a crowd, especially for some of the general introductory psychology classes that you'll be taking, where you might be one among several hundred students? Are you okay with being a little fish in a big pond?
If you are serious about studying psychology and think you'll eventually want to get a graduate degree in psychology, then a research university is probably the place for you. If you excel as an undergraduate at a research university, you'll be able to take graduate courses your junior and senior years, and you may be invited to do research with some of your professors.
A research university can thus be a great springboard if you aspire to be a world-class player in the field of psychology.
Back to Top
But perhaps your interest in psychology isn't overwhelming. Perhaps you are thinking of psychology more as a stepping stone to other things that interest you, such as a career in law or education. And perhaps you want a more intimate campus.
In that case, a liberal arts college may be just what the doctor ordered. The best liberal arts colleges offer an excellent undergraduate education. In fact, students who do well at a top liberal arts college typically have no problem getting into and thriving at a top research university if upon completing their bachelor's they decide to go on for further study.
The best liberal arts colleges offer a broad range of subjects for students to study. They typically provide smaller class sizes, more direct engagement with professors, and, most importantly, the opportunity to sample a wide range of subject areas on the way to a bachelor's degree. Liberal arts colleges stress not only going deep in one's major but also going broad.
Here's another reason you might appreciate the breadth of a liberal arts education: about 80 percent of undergraduate students end up changing majors while in college and 60 percent of college grads would change majors if they had to do it again. Liberal arts colleges keep you from getting too narrowly focused.
Back to Top
The verdict is in: other things being equal, a campus-based college experience is preferable to a purely online college experience. Indeed, nothing beats direct personal contact with faculty and fellow students. Body language, facial cues, voice intonation and a host of other factors like this get lost in going from "real reality" to "virtual reality." These factors enhance the educational process and get lost in online education.
There was a key caveat in the previous paragraph: other things being equal. As it is, other things are rarely equal. You may be a second career student with a family to take care of and no way to juggle these obligations with a commute to a local campus. Online education may then be your only option.
Or it may be that you thrive on independence and solitude, working at your own pace and schedule, viewing video lectures and digital materials at your convenience. Online education gives you unmatched flexibility to pursue your education on your terms.
Life is a matter of tradeoffs. Pursuing a psychology major online will mean missing out on the benefits of campus life. Such benefits include everything from having housing and meals provided on campus to in-person office hours and counseling services. But where a campus-based education is not an option, an online education may be quite doable.
Back to Top
Back to Top
The Best Colleges and Universities for Psychology Degrees
Harvard University
Stanford University
Yale University
University of Pennsylvania
Columbia University
Swarthmore College
Wesleyan University
Amherst College
Pomona College
Wellesley College
University of Arizona
University of Missouri
University of Nebraska at Kearney
Loyola University Chicago
University of Nevada, Las Vegas
The Best Psychology Schools in Your State
Back to Top
Learn More About Psychology
If you want to know more about psychology, then check out our related content: