The best history liberal arts colleges are those with rich histories of influence, proven through the work produced by the program's faculty and alumni. Beyond demonstrating scholarly impact in the field, the best history degree programs maximize your opportunities to interact with outstanding history faculty.
Top 10 Liberal Arts Colleges History Programs
Key Takeaways
As we study history, we learn how much our lives differ from those of our ancestors and yet how similar they are in their goals and values.
Attending a liberal arts college for your history degree program means that you will take an array of humanities and foundational courses, resulting in a well-rounded education.
History graduates go into research and heritage, education, and museum sector careers, as well as event marketing, advertising, public relations, and journalism.
A bachelor's degree in history is an excellent starting point for a career in education, government consultation, journalism, and a host of other stimulating fields. As a history major, you'll study philosophy, literature, language, and a number of other related fields.
Your history degree will incorporate an array of humanities as well as foundational courses in the history of Western and Eastern Civilizations, ancient history, and contemporary history. The best schools for history are those which are regionally accredited, which offer a full array of history concentrations, and which give you the chance to work with the best and most influential professors and classmates.
Degree popularity: History bachelor's degrees are the 39th most popular undergraduate degrees across all student demographics, ranking much higher for men at 24th. It's most popular among white and Hispanic men, for whom it ranks 18th and 26th respectively, according to the number of degree earners reported by the National Center for Educational Statistics.
Featured Programs
Frequently Asked Questions About History Bachelor's Degrees
Reasons to Study History
History helps confirms our identity.
Data on history provides evidence of how families, groups, institutions, and entire countries are formed and evolve while maintaining cohesion. For some Americans, studying one's family history is the most obvious use of history since it allows them to learn about their genealogy and gain a deeper understanding of how their family has interacted with wider historical changes.
History allows us to understand society better.
History allows you to understand society better, including with a world history and political science perspective. To understand what is happening now, we must examine factors that were present earlier.
Major developments can sometimes be explained by fairly recent history, but we need to look back further to identify the causes. In studying history, we can understand how things change, what factors cause change, and what aspects of an institution or society persist despite change.
History improves moral understanding.
A student of history can hone their moral sense by studying the stories of individuals and situations in the past by comparing the complexities they have faced in difficult circumstances. There is an inspiration to be found in real-life, historical accounts of people who have faced adversity, in as far back as ancient and medieval history.
History builds citizenship.
History can build your sense of citizenship. Due to our common knowledge of our history, we have a shared history and a communal identity. To understand our present as a community, we need to know how we came to be as a group. This awareness contributes to that sense of nationalism as well.
Required Skill Sets for Future Historians
Here are some skill sets that you need to brush up on if you want to pursue a career in history:
Teamwork
Communication Skills
Problem-Solving Skills
Data Analyzing Skills
Has Good Initiative
Special Attention to Details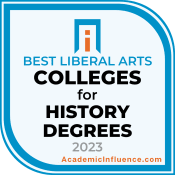 If you think a research university may be a better fit for you, see our ranking of the best research universities for a bachelor's in history.
Best Liberal Arts Colleges for History Degrees
Other Rankings

What is Colgate University known for?

Colgate University's faculty and alumni have been influential in:

Most Influential Alumni

Colgate University History Majors

Black History
Capitalism, Commodities, and Class
Cultural History
Empires and Colonialism
Environmental History
Gender and Sexuality
Indigenous History
Intellectual History
Migration and Diaspora
Race and Racism
Religion and Society
Science, Technology, and Medicine
Social Movements and Human Rights
War and Violence

Other Rankings

What is Barnard College known for?

Barnard College's faculty and alumni have been influential in:

Most Influential Alumni

Barnard College History Majors

Urban History
Intellectual History
Rights, Law, and the State
Empires and Colonialism
Race and Ethnicity
Gender, Sexuality, and the Family
Markets, Money, and Labor
Science, Technology, and the Environment
The Atlantic World
Religion, Belief, and Values
Premodern History
War and Revolution
International and Global History

Other Rankings

What is United States Air Force Academy known for?

United States Air Force Academy's faculty and alumni have been influential in:

Most Influential Alumni

United States Air Force Academy History Major

Other Rankings

What is Smith College known for?

Smith College's faculty and alumni have been influential in:

Most Influential Alumni

Smith College History Majors

Antiquity
Islamic Middle East
East Asia
Europe 300-1650
Europe 1650 to Present
Africa
Latin America
United States
Women's History
Comparative Colonialism

Other Rankings

What is Carleton College known for?

Carleton College's faculty and alumni have been influential in:

Most Influential Alumni

Carleton College History Majors

Bachelor's in History
Thematic Major option

Other Rankings

What is Bryn Mawr College known for?

Bryn Mawr College's faculty and alumni have been influential in:

Most Influential Alumni

Bryn Mawr College History Major

BA in History
History Minor

Other Rankings

What is University of Richmond known for?

University of Richmond's faculty and alumni have been influential in:

Most Influential Alumni

University of Richmond History Major

BA in History
History Minor
The Best History Schools in Your State
Back to Top
Learn More About History
If you want to know more about history, then check out our related content: